5/19/2017
I just finished reading True to You by Becky Wade and Hometown Hero's Redemption by Jill Kemerer. Next up? Final Verdict by Jessica R. Patch and Behind the Scenes by Jen Turano. We're gearing up for summer at our house. We're ready for the end of the school year! My kids have decided, on their own, that they are going to read a bunch of books this summer. Love them!
***
10/3/2016
I'm having a flash giveaway on my Facebook page: www.facebook.com/JillLynnAuthor. Two copies of Just Show Up are up for grabs–one for you and one for a friend. Pop by and comment to enter!
***
Her Texas Family is available now! Here's some sharable quotes from the book. Please feel free to pin, tweet, and share on Instagram or Facebook. Thank you!
***
GIVEAWAY!! I received my author copies of Her Texas Family and I want to share! Enter for a chance to win before it's in stores. I'm giving away three paperbacks, so more chances to win! It releases April 19th.
***
March 1st, 2016:
It's release day for And It Was Beautiful! For those who have been asking for Kara Tippett's blog in book format, this is it. You can find it anywhere books are sold or online.
Some recent interviews ~
***
December 31st: Wishing everyone a happy new year! Here's the link to The LEON Show interview for those who were interested: Jill on The LEON Show
***
December 14th:
A few links to recent interviews:
Suzie Eller Blog Q&A: http://tsuzanneeller.com/2015/12/10/livefreethursday-just-show-up/
Cherished Magazine Q&A:  http://cherishedmagazine.com/magazine/signup/December2015
Stitches Thru Time: http://stitchesthrutime.blogspot.com/2015/12/interview-with-author-jill-lynn.html
***
December 2nd:
I can't believe it's December. I feel like two months have disappeared in one blink. I've been doing lots of interviews for Just Show Up. I'm thankful and blessed to be able to share the story of this book and how it came about with many across the country. I've "met" lots of amazing people over phone interviews and so many of them have encouraged me. Thank you to those who have read the book and left a review and been such a support. It means the world to me (and Kara.) Right now The Hardest Peace is on sale for 1.99 for a short time. This is Kara's first book and I can't recommend it highly enough. Hope your December is filled with peace. ~ Jill
***
September 30th:
What a gift to be hosted on Ann Voskamp's site today. A Holy Experience. When you're desperately looking for grace in the midst of hard places.
***
September 28th:
Winners were chosen for the #JustShowUpbook giveaway and books have been mailed. Thank you to everyone who entered!
Also, it's release week! Just Show Up is available on Thursday, October 1st.
***
September 1st:
Remember to sign up for my email list to be entered to win an early copy of Just Show Up. I'll be giving away two copies to two people on the list just as soon as I get my author copies. Which should be soon!
***
August 7th:
Join me over at the Fresh Fiction blog today. We're talking must haves in romance and a chance to win Falling for Texas! Fresh Fiction
***
I'm reading:
I just left a review for my friend Jill's soon to be released book, Unexpected Family. Love Inspired readers, you'll love this one!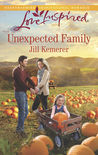 Unexpected Family by Jill Kemerer
My rating: 5 of 5 stars
This is a sweet, heartwarming romance that will take you into the lives of two characters who desperately need a second chance. You'll root for them as they realize who they are in Christ and what they both want to fight for. Macy is the little girl in the book, and she adds another sweet element. Kemerer's descriptions are extremely well done, and the characters are well-developed and realistic. If you're looking for the following things, this one is for you: sweet, clean romance. Happily ever after. Faith-filled fiction. Second chance at a first romance. Small-town setting. Sigh-worthy ending. Enjoy!
***
July 7: Guest posting on Mundanefaithfulness.com today about trials and suffering and counting it all joy. Hop over and join us! Consider it all Joy
***
July 3: Ahh!! So excited to have this new site up and running. Huge thanks to Jones House Creative. I love it! As for writing, I've taken a bit of time off after handing in my last edits. I always find I need some space for my mind to rest. Since it's summer, I'm hanging with my kids as much as possible. I can already feel the desire to write, so I think it won't be long before I start tapping the keys again. Hope everyone is having a great summer!
Save